About Vandiveer Photography Headshots
Goal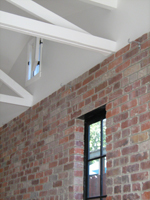 Our mission is to craft headshots that market actors toward the casting that will help start long prosperous careers for them. The goal with each shoot is to do that while we make you look your absolute best. After all, your headshot isn't just your calling card, it's ours too!
A good headshot is one that: exudes personality, makes you look great, jumps off the page, and still (most importantly) looks like you. Shots like these jump-start careers. To get great headshots three elements must be in place.
Shooting Philosophy
A relaxed comfortable subject:

Comfortable enough to stand on your head or take a nap in the corner kind of comfortable! This is the only way the real you will be present for the camera. Bring your music, take a break, make a phone call, whatever you need. We allow plenty of time for each shoot so there's absolutely no rushing and no next appointment "waiting in the wings." We shoot as much as we need to, so there's no worrying about a shot count. It's all about you, as it should be. We take our time and we get great shots - period.

Great photo technique:

We use crisp beautiful 'open-shade' natural light, the very best lenses, shallow depth of field and top notch digital equipment to make your eyes jump off the page and catch everyone's attention. The subtle backgrounds and locations we use suggest casting and environment simply without distracting from the real subject: you.

Jonathan brings: an art background, 20+ years of photography experience, 10+ years of acting experience, and extensive training with some of the worlds best celebrity and fashion photographers to each and every shoot. His intention is that your headshot stands out from the rest, emits your energy and truly personifies you.

Clear Direction:

Understanding what "life in the eyes" means is essential to any headshot photographer. That relaxed, tension-free zone referred to earlier is the key to really letting your eyes speak. Jonathan's been dubbed a 'master' at directing you to that state and helping you bring out your natural personality. This communication will help create a "thought bubble" over your headshot that makes for a bold, confident and powerful statement instead of transmitting a question or uncertainty. This confident statement is what casting directors refer to by saying that the actor's headshot "just had that 'sparkle' in their eyes."
Jonathan also brings a thorough knowledge of acting. Yes, he's an actor as well. (using a different stage name) Starting off as a photographer, his acting experience and training has changed the way he shoots headshots significantly. If your current headshots don't stand out, if they don't shine and show the real you, make a change! How many missed opportunities will pass you by if this one true representation of yourself to the entertainment industry isn't showing the real you? We look forward to helping you jump start your career!
At your service,
Vandiveer Photography Headshots